GnuCash Tutorial and Concepts Guide¶
GnuCash is the personal finance software package made for you. It is versatile enough to keep track of all your financial information, from the simple to the very complex. It is one of the few financial software packages that supports global currencies, and it is the only open-source program of its kind. Best of all, GnuCash is easy to learn and use!
So, what can GnuCash do for you? It can keep track of your personal finances in as much detail as you prefer. If you are just starting out, use GnuCash to keep track of your checkbook. You may then decide to track cash as well as credit card purchases to better determine where your money is being spent. When you start investing, you can use GnuCash to help monitor your portfolio. Buying a vehicle or a home? GnuCash will help you plan the investment and track loan payments. If your financial records span the globe, GnuCash provides all the multiple-currency support you need.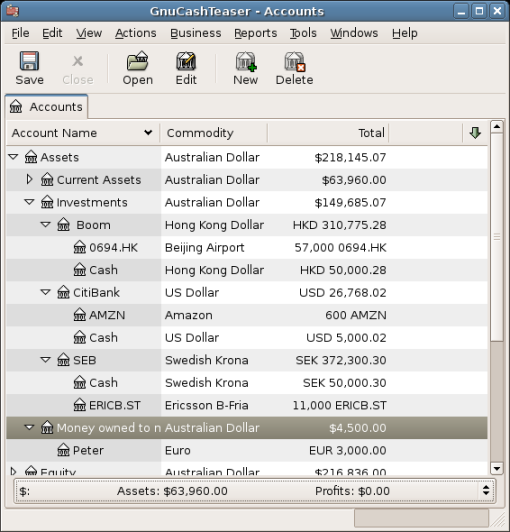 While GnuCash is well suited for personal finances, it is also powerful enough for business use. There are many business features, from integrated accounts receivable and payable systems, to tax table construction. You will find these and the many other business features surprisingly powerful and easy to use.
About this Book¶
This manual's goal is to save you time. It will get you started using GnuCash as quickly as possible.
Each chapter follows a simple format. A chapter begins with a "Concepts" discussion which introduces general themes and terminology, addressed and used within that chapter. "How-To" sections, which address specific procedures follow. Finally, a "Putting It All Together" section ends the chapter by giving detailed, concrete examples.
Beginning users will find the "Concepts" sections very helpful. They provide a reference for good ways to track your finances, and serve as a general introduction to financial background and terminology. Experienced users can flip to the "How-To" sections to quickly scan procedures. These sections provide to-the-point steps for accomplishing specific tasks. The "Putting It All Together" sections present real-world examples in the form of a tutorial. Beginning with creation of a file in The Basics, each successive chapter builds on the previous chapter's tutorial.
This manual is organized into 3 main parts:
Managing Personal Finances
Managing Business Finances
Getting Started provides you with the most basic information needed to begin using GnuCash. The chapters in this section explain concepts that are fundamental to using GnuCash. New users of GnuCash should familiarize themselves with the information in these chapters to get you up and running:
Managing Personal Finances addresses common applications and features of GnuCash in greater detail. You will see more specific cases, based on frequently asked questions about applying GnuCash to everyday situations. Here are the applications and features covered in this part:
Managing Business Finances discusses the use of GnuCash in business accounting:
This manual also includes several appendices, which contains extra information you might want to know:
Last, but not least, a glossary and index help you quickly locate topics.
Getting More Help¶
GnuCash offers help in many ways, including the Tip of the Day, context help, a website, a wiki, the mailing lists, and IRC chat.